India Sonia Gandhi leads solidarity march for Manmohan Singh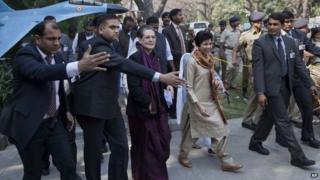 The chief of India's main opposition Congress party Sonia Gandhi has led a march to show solidarity with the former Prime Minister Manmohan Singh.
The march comes a day after a court summoned Mr Singh over a corruption scandal involving coal mining licences.
An upset Mr Singh said on Wednesday that he was "open for legal scrutiny" and that the "truth will prevail".
Ms Gandhi said the party was "fully behind Mr Singh" and that she had no doubt that he would be vindicated.
Mr Singh and five others have been accused of criminal conspiracy and ordered to appear in court on 8 April.
In 2012, federal auditors said India had lost $33bn (£20bn) because coalfield rights were sold off cheaply.
Mr Singh, whose government ran India for a decade until last year, said he "will be able to establish my total innocence."
On Thursday morning, Ms Gandhi led a march of some 100 senior party members from the Congress party office to Mr Singh's residence in the capital, Delhi.
"Mr Singh is known in India and throughout the world as being a person of integrity and probity. We are here to offer our unstinted support and solidarity," she told reporters.
"The Congress party is fully behind him. We shall fight this legally with all the means at our command and we are sure he will be vindicated."
Senior Congress party leader and former law minister Veerappa Moily said Mr Singh had told them that he "will fight it out" and "he is confident that he is innocent".
Wednesday's court summons relates to the allocation of a coal mining licence to Hindalco Industries in Orissa in 2005, at a time when Mr Singh was prime minister and also held the coal ministry portfolio.
Known as one of India's cleanest politicians, the former prime minister has not been charged with any crime but is being investigated for criminal conspiracy, criminal breach of trust and corruption-related offences.
If found guilty, Mr Singh, 82, could be sentenced to jail for life, although correspondents say that is not likely.
---
Coal scandal timeline
1993-2010: 218 coal licences allocated by various Indian governments led by parties including Congress and the BJP
2012: Federal auditors say India lost $33bn (£20bn) because coalfield rights were sold off cheaply
September 2014: Supreme Court scraps 214 of 218 licences after finding they had been awarded illegally
October 2014: The new BJP government announces plans to re-auction the licences
January 2015: Central Bureau of Investigation (CBI) questions Manmohan Singh after court order
10 March 2015: Court summons Mr Singh
---