India media: Kejriwal 'absent' as AAP faces crisis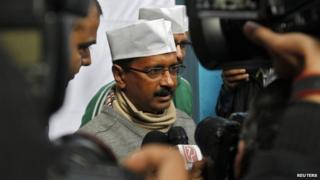 Papers highlight that the supporters of Delhi Chief Minister Arvind Kejriwal are questioning his absence from the capital when his party is facing infighting.
Mr Kejriwal is being treated for respiratory problems at a hospital in Bangalore at a time when his Aam Aadmi Party (AAP) is "falling apart".
Senior members of his party have accused each other of betrayal. Emails and phone recordings have been leaked by both pro-Kejriwal and anti-Kejriwal camps in the party.
Mr Kejriwal's anti-corruption party formed a short-lived government in December 2013 with the help of the Congress party. But he resigned as Delhi's chief minister 49 days later and promised not to form a coalition with Congress.
However, Rajesh Garg, a former member of the Delhi assembly, on Wednesday released an audio clip of purported conversations between himself and Mr Kejriwal from last year, reports say.
In the clip, Mr Kejriwal allegedly asks Mr Garg to "try and separate six Congress MLAs and ask them to form their own party and support the AAP from outside", The Indian Express reports.
The "infighting" seems to have escalated in the party after it swept the elections in February this year, winning 67 out of 70 seats.
"It [the AAP] was meant to be a new beginning. But it turned out to be the beginning of the end. Soon, the government turned into a never-ending drama full of conspiracies, betrayals, back-stabbing, ego clashes, damning revelations and ugly wars among its top leaders," writes the First Post website.
The Hindustan Times also highlights the feeling of disappointment among the supporters of the AAP.
"As images of a calm Arvind Kejriwal doing yoga streamed in from Bangalore on Thursday morning, hundreds of Aam Aadmi Party (AAP) volunteers were left wondering why the AAP convener and Delhi chief minister didn't return to the capital to battle horse-trading charges levelled against him after the surfacing of an audio tape," it says.
The NDTV website says Mr Kejriwal will land in a milieu very different from the serene surroundings of the Jindal Institute of Naturopathy when he lands in Delhi on Sunday.
BBC Monitoring reports and analyses news from TV, radio, web and print media around the world. You can follow BBC Monitoring on Twitter and Facebook.