India media back Lagarde's reforms appeal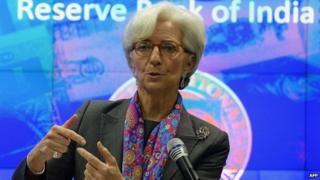 Papers in India back IMF Christine Lagarde's appeal for deeper and faster economic reforms in India.
Ms Lagarde said Prime Minister Narendra Modi's government was focused on reforms but they "need to be pursued with the utmost speed".
The visiting head of the International Monetary Fund (IMF) also warned developing economies like India to be prepared for the upcoming rise in US interest rates.
Papers India agree with Ms Lagarde that Mr Modi has not been able to bring reforms as quickly as he had promised during poll campaigns last year.
"Indian potential is not the issue, implementation is. The fact is that India's upward economic journey has been held back so far by the limited imaginations and risk-averse predilections of a political and bureaucratic class...," The Times of India says in an editorial.
The paper adds that "unless politicians get their act together, the economy may remain perpetually stranded on the runway poised for take off but never quite making it".
The Asian Age acknowledges that the federal government has taken some steps, but more is needed to reform the Indian economy.
"There is no doubt or dispute that the government has taken steps to create an investor-friendly environment, but one-window clearance, speedy clearances, etc., are still to reflect at the ground level at the centre and states," it says in an editorial.
The paper says the Prime Minister's Office (PMO) is overseeing every decision and that is making the government's decision-making slower.
"According to those in the know, decisions of several ministries are finalised by the PMO and so decision-making is stuck there. All power has been centralised in the PMO. If this is true, perhaps the Prime Minister needs to look into this personally as this hardly reflects the good governance he promised," it says.
BBC Monitoring reports and analyses news from TV, radio, web and print media around the world. You can follow BBC Monitoring on Twitter and Facebook.