Indian media: Sharad Yadav's 'sexist' remark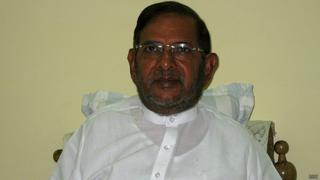 Papers say senior MP Sharad Yadav's remarks about the colour of women's skin "are dangerously wrong at several levels".
Mr Yadav on Wednesday said he was "saddened" by media reports attributing sexist comments to him, The Hindu reports.
Last week, the MP said in the parliament that "South Indian women are beautiful and so are their bodies... women in our parts [north India] are not so [beautiful]. They also know how to dance".
His statement drew criticism from MPs like Smriti Irani and Ravi Shankar Prasad and also in the media.
Mr Yadav on Wednesday "regretted" his statement after refusing to apologise initially.
'Misogynistic levity'
But papers feel that his clarification cannot hide the fact that his remark "trivialises women and sends out the message that flippant remarks about women, their skin colour or bodies are par for the course".
"Besides laws that address women's safety, what is urgently needed is a code of conduct or set of rules that will apply to public officials and politicians, which can ensure that gender-biased comments and jokes are weeded out of the public discourse. Parliament is hardly the place for misplaced and misogynistic levity," says The Hindu in an editorial.
Former MP Brinda Karat writes on the NDTV website that Mr Yadav's comments were "outrageous".
"His body language and comments in parliament on the fair or dark skin of women, and the attributes of women from the South when they dance, were outrageous and condemnable and indicated the poor and deteriorating standards of public debate often led by senior leaders," she writes.
The Pioneer too criticises Mr Yadav for using "the floor of the house to comment on the skin colour of women and their physique".
"He is also a recipient of the 'best parliamentarian' award. All of these honours vest on him a certain responsibility... In any case, there was no reason for Mr Yadav to have meandered in his speech in parliament and hold forth on dark-skinned and fair-skinned women while speaking on the Insurance Bill," it says in an editorial.
BBC Monitoring reports and analyses news from TV, radio, web and print media around the world. You can follow BBC Monitoring on Twitter and Facebook.