Media elated over India's entry in cricket World Cup semi-finals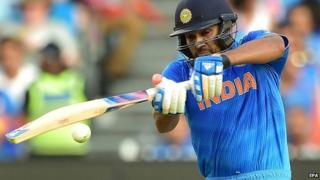 Papers are ecstatic after India's thumping win over Bangladesh in the quarter-final match of the ongoing cricket World Cup in Australia.
Not many pundits gave India a chance ahead of the tournament, but the defending champions have surprised them by keeping a clean slate.
Captain Mahendra Singh Dhoni's team did not lose a single game in the group stage and their form was evident in the knockout game against Bangladesh on Thursday.
Opener Rohit Sharma made a composed 137 from 126 balls and Suresh Raina 65 from 57 as India recovered from 115-3 to post 302-6 at a boisterous MCG.
The Tigers lost two wickets in the seventh over of their reply and eventually limped to 193 all out in 45 overs as India's bowlers dominated.
Sharma's innings has drawn special praise in the papers.
"It wasn't blind hitting at any stage. Rohit took 70 balls for his first fifty and 108 balls to complete the ton. But it was in the last 18 balls of his innings that he changed the complexion of the game, hitting 35 runs off it," says The Times of India.
The Indian Express remembers how the stylish batsman's slumping form had made pundits question his abilities.
"India has watched Rohit Sharma grow in years, today they saw him grow in stature. Since making his international debut as a teenager, with the public gaze on him, he has gained weight, lost form, lost hair, gained ground... Today at MCG, the batsman known for his frustrating inconsistency, flashy strokes and fractionally-short-of-40 ODI average won the trust of fans and a semi-final spot for his team," the paper says.
The Hindu says Sharma's "137 was as measured and responsible as it was an aesthetic delight. Raina did not hold back either, making a rapid 65 as India registered a sizeable score".
---
'Mother cow'
Meanwhile, Bollywood actor Rishi Kapoor is continuing to explain his tweet on beef consumption in India.
Kapoor had tweeted that people should not mix religion with food choices.
His tweet came days after the government in the western state of Maharashtra banned the slaughter of cows and the sale and consumption of beef in the state.
The state government is run by the Hindu nationalist BJP party.
The actor attracted a backlash from Hindu nationalist groups, who believe "cow slaughter" is against their religion.
Kapoor has been tweeting since Sunday to defend his earlier statement. On Wednesday, he tweeted that he was against killing "gau maa" (mother cow):
---
Monkey business
And finally, railway officials in the northern city of Agra have hired black-faced langur monkeys to frighten red-faced macaque monkeys.
Hundreds of macaque monkeys routinely attack passengers and disturb other services at platforms, rail offices say.
"Monkeys were creating a big menace by climbing overhead railway cables. Often, they would get electrocuted and their bodies would get stuck on the cable, bringing railway operations to a halt. Due to the increase in the number of such incidents, the engineering department decided that it was best to hire six langurs," senior railway official Bhupinder Dhillon told The Times of India.
The owners of the six langurs would earn a combined salary of close to 1m rupees (£10,000;$16,000) per year for their services.
BBC Monitoring reports and analyses news from TV, radio, web and print media around the world. You can follow BBC Monitoring on Twitter and Facebook.