Is India's anti-corruption party unravelling?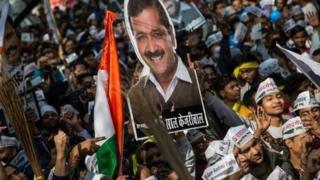 Is India's anti-corruption Aam Aadmi Party (AAP) unravelling?
Weeks after staging an epic comeback - winning 67 of the 70 assembly seats in the Delhi state elections and posing the first real challenge to Prime Minister Narendra Modi's BJP - the two-year-old party, run by the charismatic former tax inspector Arvind Kejriwal, has been roiled by feud and dissension. Inspired leaks and murky sting operations initiated by party leaders have meant that most of the party's dirty linen has been washed in public.
Things have now come to a head with Mr Kejriwal completely sidelining two of AAP's key founder members.
Yogendra Yadav and Prashant Bhushan, who counted themselves among his closest allies, have been dropped from key decision-making panels for their alleged "anti-party" activities. Alluding to the rise of a cult of personality around Mr Kejriwal, the two said that the party was at risk of becoming a "one-man show" and blamed its opaque decision making. Analyst Ajaz Ashraf, who has been closely following AAP, says it is really a "power struggle dressed up as a battle of ideas and a fight for transparency".
Indian politics has a chequered history of splits and mergers, so a breakup of AAP will be an unexceptionable event. (A popular book on politics in India is titled Divided We Stand.)
The allegation that Mr Kejriwal has fostered a cult of personality is also not extraordinary: most of India's leading parties revolve and thrive around personalities, and a number of them would possibly implode after the death of their leader.
What is surprising is that AAP actually held out the hope of being different. Tens of thousands of Indians, tired of dynastic politics, rampant corruption and brazen nepotism, supported Mr Kejriwal's party because they believed it stood for probity, transparency and democracy. Mr Kejriwal was seen as an authentic hero in a country where politicians appeared to have lost the trust of people.
But the unseemly spectacle of AAP's top leaders squabbling in the open, the intemperate language used in phone conversations and the virtual banishment of two of the party's brightest leaders, will now put to rest the illusion that AAP is all that different.
The recent events also prove, as historian Mukul Kesavan writes, that AAP is a "form of sole proprietorship, not a political cooperative that many thought it was". Those who naively believed in its "rhetoric of decentralised democracy" should realise Mr Kejriwal's ownership of the party is complete.
Mr Kesavan points out that there had been enough hints in the past that Mr Kejriwal's "political style was personalised to the point of whimsicality". Remember the time when he quit the Delhi government in a huff after a chaotic 49 days in power following an impressive debut in the December 2013 state polls? Or his unusual sit-in protest sparked by a row over who controls Delhi's police force, when it was difficult to say whether he was the man in charge of Delhi or an opposition leader?
Mr Kejriwal's upstart party is made up of a motley crew of activists, academics, liberals, journalists and leftists. It still remains a quintessentially Delhi-centric, urban party, which is yet to engage with the thornier issues of caste, identity, and religion, which continue to play a key role in India's messy and fragmented politics. (One major area of disagreement between Mr Kejriwal and his estranged comrades was over the expansion of the party outside Delhi. )
In the short term, a split in AAP will not possibly rock the boat for Mr Kejriwal, who remains the party's mascot and only vote-catcher and has the allegiance of his legislators. Also, the star dissenters are well-respected academics and lawyers with little or no political base of their own.
But the purge leaves Mr Kejriwal poorer. He has, says Mr Kesavan, "been damaged by the loss of intelligent, well-spoken allies who had great virtue of not being seen as his creatures". Mr Kejriwal's remaining allies are now "obscure, undistinguished men who dimly glow in the light of his sun".
Many believe that the purge also demonstrates that Mr Kejriwal has emerged as an artful practitioner of realpolitik. But as political scientist Ashutosh Varshney says that "although the short-term consequences of not allowing genuine internal democracy might help a political party, lending efficacy and cohesion, we know from history that such moves can badly hurt in the long run". AAP, as a friend jests, has quickly entered middle age.