Indian media: Cigarette warning delay 'absurd'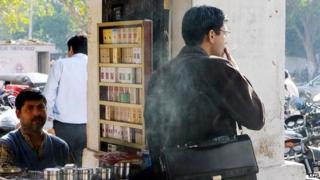 Media are highlighting activists and MPs' anger over the government's decision to defer putting bigger pictorial health warnings on cigarette packets.
India was due to start putting bigger and more graphic warnings on cigarette packets from 1 April, but a parliamentary panel on Tuesday suggested the government to delay its decision.
BJP MP and head of the panel Dilip K Gandhi said the government needs to look at the economic impact of the decision before taking a final call.
"There is no Indian survey report to prove that tobacco consumption leads to cancer. All studies are done abroad… We have to study the Indian context, as 40 million people in states like Madhya Pradesh, Andhra Pradesh, Maharashtra and Chhattisgarh are dependent on [making] bidi (small hand-rolled cigarettes)," the Hindustan Times quotes Mr Gandhi as saying.
The MP's statement has received criticism from lawmakers and activists.
"(That) tobacco causes cancer is reality. My father has been an oral cancer survivor for nearly 15 years now and I have experienced the suffering first hand. We recently lost colleague RR Patil, who was like an elder brother, to cancer due to tobacco," said opposition MP Supriya Sule said.
Mr Gandhi's party colleague and federal minister Prakash Javadekar has also criticised Mr Gandhi's statement.
"Do not listen to these things. Science is science. You cannot compromise on science," he said.
India has about 110 million smokers and the government says smoking kills nearly a million people a year.
Ulka Bangui of the Indian Cancer Society has termed Mr Gandhi's comments "absurd".
"I think that is the most absurd comment that could have been made. We are all aware that the amount of research that has been done on cancer in our country because India is one of the countries which has the largest incidence of cancer," The Times of India quotes her as saying.
---
Alcohol ban
A court in the southern state of Kerala has upheld the state government's decision to allow sale of liquor only in five-star hotels, reports say.
The court "rejected plea of bar owners that the closing down of bars will affect the economy of the state and its tourism prospects," the Mint website reports.
The government has welcomed the verdict, but bar hotel owners association said they would appeal in the Supreme Court, The Indian Express reports.
BBC Monitoring reports and analyses news from TV, radio, web and print media around the world. You can follow BBC Monitoring on Twitter and Facebook.