The best of Rahul Gandhi 'break' memes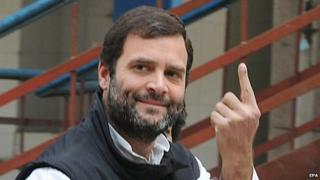 Rahul Gandhi, vice president of India's main opposition Congress party, is returning from a leave of absence, his party has announced.
Congress leader Digvijay Singh said that Mr Gandhi will speak at a meeting of farmers to protest against the ruling BJP's controversial land acquisition bill on 19 April.
The Congress announced on 23 February that Mr Gandhi was taking a break from parliament to focus on party work. He has not been seen in public since.
Mr Gandhi's absence created a stir on social media, and speculation about his whereabouts sparked a series of memes and jokes on websites like Twitter.
Some say the Congress leader has been resting in the Himalayas, while others have sent him to an island resort in Thailand. Still others jested that he took leave to watch the recently concluded World Cup cricket in Australia.
Others believe that even Prime Minister Narendra Modi has been looking for Mr Gandhi during his foreign visits.
Is Mr Gandhi "reinventing the wheel"?
Some websites have their own take on "imagined conversations" between Sonia Gandhi and former PM Manmohan Singh about why Rahul Gandhi was absent during the Congress party's march against a controversial land reforms bill.
One user thinks Mr Gandhi is preparing to replace Bollywood star Shah Rukh Khan in the third edition of his popular movie series Don. "Don ko pakadna..." has been the main catchphrase of the movie and it means that "not only it's difficult to catch Don, but it's also impossible".
Another user speculated that Mr Gandhi was in outer space.
BBC Monitoring reports and analyses news from TV, radio, web and print media around the world. You can follow BBC Monitoring on Twitter and Facebook.