India media: Maoists attacks highlight security challenges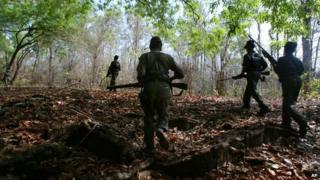 Maoists rebels have intensified their "desperate attacks" in central India to stop security forces from advancing into their stronghold, papers say.
At least 13 security officials have died in four different attacks in the past four days in Chhattisgarh state.
Five police officials died on Monday when the rebels blew up their armoured vehicle in remote Dantewada district.
On Saturday, seven soldiers died in another attack in Sukma district of the state. One paramilitary soldier was killed in an attack over the weekend.
The recent surge in attacks comes against the backdrop of security forces' push to stop the rebels from increasing their presence in the state.
The Maoists say they are fighting for communist rule and greater rights for tribal people and the rural poor.
Their insurgency began in the eastern state of West Bengal in the late 1960s, spreading to more than one-third of India's 600-plus administrative districts.
'Desperate' attacks
Papers on Tuesday appear to be reflecting on the the recent spate of attacks.
"The pattern in the series of attacks on security forces by Maoists in the past three days in Chhattisgarh's Bastar throws light on the rebels' new strategy, in which they plan to intensify their tactical counter-offensive campaign in the current summer season to stop security forces from advancing into their stronghold," the Asian Age quotes intelligence officials as saying.
Experts tell the Hindustan Times that "the Maoists were desperate to clear the ground to carry out their Tactical Counter Offensive Campaign, which is usually undertaken by Maoists from April onwards and continues till mid-June".
"Lying low for some months by Maoists is actually a tactical pause, the duration they invest on their strategic planning and training," guerrilla warfare expert Brigadier (retd) BK Ponwar tells the paper.
Some papers, however, highlight lapses in security forces' response to the attacks.
"Even as the Maoists ambushed a team of Special Task Force in the forests of Pidmal on Saturday, the beleaguered security personnel had timely sent alerts on tracker device, seeking help but it took too long time for additional reinforcements to get to the spot," a report in The Times of India says.
The First Post also highlights "security blunders" in Maoist-hit areas.
"The post-mortem of every encounter tells the story of either the failure of intelligence or a security force faulting on strategy or in following the standard operating procedure," it says.
BBC Monitoring reports and analyses news from TV, radio, web and print media around the world. You can follow BBC Monitoring on Twitter and Facebook.