Indian papers back "save the internet" campaign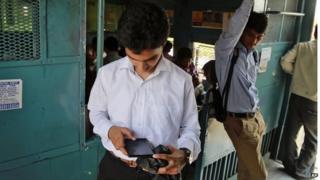 India's newspapers have strongly supported net neutrality after a telecom operator's plans to allow users to access some websites for free.
The country's biggest online retailer Flipkart on Tuesday pulled out of a controversial deal with phone network Airtel after a social media backlash.
Flipkart had agreed a deal with Airtel to let customers browse its site for free, with Flipkart picking up their internet data costs.
Many activists said the deal was against the spirit of net neutrality.
Net neutrality means service providers should treat all traffic equally. Users should be able to access all websites at the same speed and cost.
Most of India's newspapers have digital presence and they feel that telecom firms should give equal speed to all, without giving preference to one over the other.
The Indian Express feels that the government needs to make a specific law on net neutrality.
"Airtel launched a platform called Airtel Zero that would exempt certain services from data charges on the network. [This] has driven the conversation on the need for Indian policymakers to enshrine it [net neutrality] in law," it says.
The paper also argues that net neutrality is important to ensure more Indians from rural India are able to access the internet.
"Some have suggested that for India, with its low internet penetration rates, net neutrality is a luxury. The government's imperative, the argument goes, should be to bridge the digital divide and expand access by any means necessary," it adds.
Essential public service
Some papers, including the Indian Express, say that any changes in net neutrality will directly impact smaller web-based business and start ups.
"This [Airtel's plan] would create a tiered internet where such companies would be able to protect their dominant positions from challenges by less flush start-ups, stifling innovation and harming the level playing field so integral to the emergence of one-time upstarts like Facebook," says the papers.
The Asian Age backs people's freedom to choose, saying "the internet is too much of a good thing for humanity and it must perforce be viewed as an essential public service than an elitist medium".
"People should be able to access it, paying for the data they use, and their choice of websites to visit should not be tampered with. Net neutrality is too great an ideal to lose out to commercial interests," it says.
MP Jay Panda connects net neutrality to freedom of speech in his Times of India article.
"The preferential leveraging of certain websites by telecom firms and ISPs inherently implies reduced access to others. Taken to its logical conclusion, this could lead to blocking others, either fully or, with choked access, for all practical purposes," he writes.
The MP adds that such an approach "would damage the egalitarian nature of the internet, where today even a lone blogger might outdo mainstream media in breaking big news".
BBC Monitoring reports and analyses news from TV, radio, web and print media around the world. You can follow BBC Monitoring on Twitter and Facebook.