India regional parties bloc formed to stop ruling BJP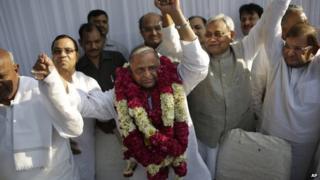 Papers in India say the merger of six socialist parties as a single political force is aimed at the ruling Bharatiya Janata Party (BJP).
The leaders of the regional socialist parties on Wednesday announced they will fight together against Prime Minister Narendra Modi's BJP.
These parties suffered a heavy defeat against the BJP in last year's general elections.
The Samajwadi Party (SP) has significant presence in the northern Indian state of Uttar Pradesh, and the Indian National Lok Dal (INLD) is from northern Haryana state.
The two parties are looking to revive their political presence in their respective states with this alliance.
The Janata Dal United (JUD) and the Rashtriya Janata Dal (RJD) are two of the main political parties in the eastern state of Bihar, while the Janata Dal (Secular) comes from the southern state of Karnataka.
The leaders of the six parties are former leaders of the now disintegrated Janata Dal (People's Front). It had emerged as a political force in 1988.
"They hope that this unity would recreate the glory of the early 1990s when they were one party - and give them the necessary heft to take on the BJP-headed alliance in the Bihar Assembly elections later this year," says The Hindu newspaper in a report.
The India Today website says "a clutch of former rivals formally came together on Wednesday as a last-ditch effort to prevent the BJP from wresting power in Bihar later this year".
The BJP, however, has dismissed the alliance as a temporary one.
"It is a temporary alliance of political warlords, who think elections are determined not on the basis of governance, but on the basis of barren (electoral) mathematics," the party's MJ Akbar said.
BBC Monitoring reports and analyses news from TV, radio, web and print media around the world. You can follow BBC Monitoring on Twitter and Facebook.