Obama writes Indian PM Modi's 'warm profile'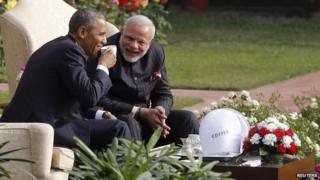 Papers in India say US President Barack Obama has written a "warm profile" of Prime Minister Narendra Modi for Time magazine.
The profile, titled "India's reformer-in-chief", is part of the publication's list of the 100 most influential people in the world.
After coming to power last year, Mr Modi promised to start the reforms process to take India to "new heights of economic development".
Mr Obama admires the rise of Mr Modi from a tea-seller to India's prime minister in the profile. Mr Modi had spoken about his humble roots during his election campaigning last year.
"As a boy, Narendra Modi helped his father sell tea to support their family. Today, he is the leader of the world's largest democracy, and his life story - from poverty to Prime Minister - reflects the dynamism and potential of India's rise," The Hindu quotes an excerpt from the profile.
The Indian Express says "Mr Obama has described Mr Modi's life story 'from poverty to prime minister' as one that reflects the dynamism and potential of India's rise".
Mr Modi, meanwhile, thanked the US president for his kind words. "Dear @BarackObama your words are touching & inspiring. Thanks," the paper quotes Mr Modi's Tweet.
The US president and the Indian prime minister have developed bonhomie in recent months with both leaders visiting each other's countries.
Mr Modi visited the US in September last year and Mr Obama was present as the chief guest during India's Republic Day celebrations in January this year.
But his ties with the US and its leaders have not always been smooth. The US repeatedly denied him visas when he was the chief minister of the western state of Gujarat due to his controversial role in the riots in the state in 2002.
Mr Modi has been often blamed for not doing enough to stop the 2002 anti-Muslim riots in Gujarat.
More than 1,000 people, mostly Muslims, were killed in the violence, which were sparked by a fire on a train at Godhra in Gujarat that killed 59 Hindu pilgrims. Mr Modi has denied any wrongdoing and Indian courts have cleared him of all charges.
BBC Monitoring reports and analyses news from TV, radio, web and print media around the world. You can follow BBC Monitoring on Twitter and Facebook.