Ankit Keshri: India cricketer dies after on-field collision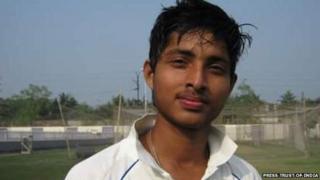 A young cricketer has died in the Indian city of Kolkata after an on-field collision with a team member during a club match.
Ankit Keshri, 20, sustained injuries during a match on Friday.
Doctors said Keshri, a former captain of West Bengal state's under-19 team, suffered from a heart attack on Monday.
Last year Australian batsman Phillip Hughes died of a head injury after being struck by a ball at a match in Sydney.
Keshri, a batsman and a leg-spinner bowler, came on as a substitute fielder for his club and collided with a team mate when both players went for a high catch.
Reports say he briefly lost consciousness, but was resuscitated by a team member before being taken to a hospital.
"It's so unfortunate. He was such a promising cricketer and for him to pass away in such a manner is difficult to swallow," Subir Ganguly of West Bengal's cricket association told Reuters news agency.
Hughes, 25, died two days after he was hit on a neck by a bouncer in November in an incident which shocked the cricketing world.
Later that month, an umpire at a cricket match in the Israeli city of Ashdod died after being hit by a ball.
In 1998, former Indian test cricketer Raman Lamba died of severe brain injuries after being hit in the head by the ball during a cricket tournament in Bangladesh.