Wife's joy at India climber's Everest escape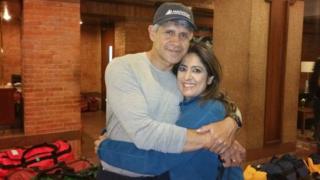 Indian climber Sangeeta Sindhi Bahl can finally breathe easy - she has spent the last couple of days worrying about the safety of her mountaineer husband Ankur Bahl who was on his way to climb Mount Everest when the deadly earthquake hit Nepal on Saturday.
Minutes before she spoke to the BBC on Monday morning, she got the "good news" that her husband and his team were safe.
"They have just reached the base camp. Earlier this morning, they descended from Camp2 at 21,000ft (6,400m) to Camp1 at 19,865ft and now they have been evacuated by a helicopter to the base camp," Mrs Bahl said.
"We have a pact - to communicate every day with the other whenever one of us is in the mountains. On Saturday, at 6:30 am he sent me a text message saying he was on his way to Camp2."
After the quake struck later on Saturday morning, she was worried sick.
"I was in panic. I'm a mountaineer too so I know how it is in the mountains. I've faced bad weather, I've been separated from my team. But I was telling myself - he's with experienced mountaineers, he'll be okay.
"But then I'm a wife first, a mountaineer later. I was worried sick."
At 15:00 on Saturday, Mr Bahl called her. "He called me from his satellite phone. He said there were tremors, but that he and his team mates were safe. It was a brief call, he said his battery was weak, and that he would call me later."
Mrs Bahl had no idea how he was or where he was until Monday morning when a message arrived from the mountaineering company Mr Bahl was with, saying he and the other mountaineers were safe.
Mrs Bahl spent the last two days praying for her husband's safety- and trying to get the Indian government to help evacuate her husband.
"I'm a great networker. I know I was being selfish but I wanted to get my husband out," she says. "I tweeted to the prime minister and the foreign minister, requesting for a helicopter for their evacuation."
Mr Bahl, 54, and Mrs Bahl, 51, are veteran mountaineers who decided a few years ago to climb the "Seven Summits" - the highest mountain of each of the seven continents - together.
The couple did four expeditions together - Kilimanjaro (Africa), Elbrus (Russia), Vinson (Antarctica) and Aconcagua (South America) - but during their fifth expedition to Mount McKinley (North America), Mrs Bahl sustained a knee injury and had to be evacuated.
"After that, we decided to do our climbs separately. We have two boys and elderly parents and we decided not to go off together for such long periods."
Mrs Bahl says her husband was "excited" about climbing Everest and that he had trained hard for the expedition.
"We have to train all the time. We do it six days a week and it's really rigorous. But we enjoy it," Mrs Bahl says.
On his Facebook page, Mr Bahl has been regularly updating readers about his trek, posting photographs and comments.
The last entry on his page is a photograph with some of his team members, posted on 22 April.
Mrs Bahl's Facebook page is more current.
"Biggest news of the century...........my husband ANKUR BAHL is back at base camp...just spoke to him...he was helicoptered off down from camp 1 to base camp......Thank you for all the good wishes prayers and being with me," she wrote on Monday after her husband arrived at Base Camp.
Mrs Bahl says in addition to the snacks, warms clothes and essentials, mountaineers on expeditions usually carry "a Kindle, music and our stories to keep themselves and each other entertained".
Mr Bahl is likely to have many stories to tell when he returns from this expedition.