India illegal fireworks factory explosion 'kills 11'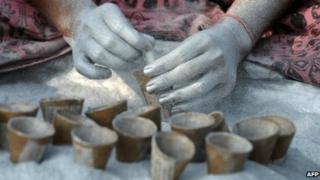 At least 11 people have been killed in a blast at an illegal fireworks factory in the eastern Indian state of West Bengal, police say.
Three others were seriously injured in Wednesday night's blast at the factory in West Midnapur district.
It was not immediately clear how the fire started.
Accidental explosions are common at Indian fireworks factories, which provide fireworks for weddings, festivals and other ceremonies.
In 2012, 34 people were killed and 30 others injured in a massive blaze at a fireworks factory in the southern Tamil Nadu state.
In the latest explosion near Pingla, the owner of the illegal factory and his wife have died. The building owner has been arrested.
The BBC Bengali's Amitabha Bhattasali in Kolkata (Calcutta) says the villagers are claiming that the death toll is higher, and that several bodies are still lying in a nearby pond.
Earlier this week, at least nine people were killed in an explosion at a fireworks factory in the western state of Maharashtra.