India train blast wounds several in Kolkata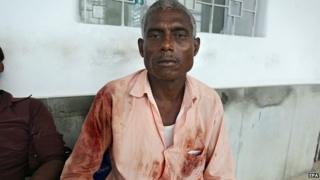 At least 14 people have been injured in a bomb attack aboard a train at a station near the eastern Indian city of Kolkata (Calcutta), police said.
An explosion was reported after a scuffle between passengers in a carriage of the train on the suburban network, travelling from Sealdah in the city to Krishnanagar.
Reports said that one of the passengers was carrying a bomb which exploded.
Tuesday morning's incident disrupted train traffic in the area.
Railway officials said the explosion happened after a man boarded the train at Titagarh station near Kolkata.
A senior police official told the NDTV news channel that the blast followed an argument between passengers when the train was leaving the station.
"A group of people got on the train at Titagarh. There was an argument and then a bomb exploded. We are investigating what happened," Niraj Singh said.
Seven of the 14 people injured in the blast were discharged after first aid, while seven others were admitted to a hospital.
Last year, a woman was killed and nine others were injured in an explosion on a train at a station in the southern city of Chennai.
And in 2007, at least 65 people were killed after a bomb attack aboard a train travelling from India to Pakistan.