India director Ritesh Batra to adapt Julian Barnes' Booker novel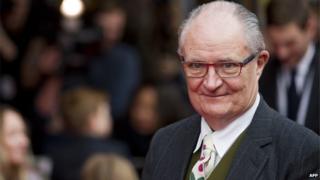 Indian filmmaker Ritesh Batra has been signed in to direct the film adaptation of The Sense of an Ending, Julian Barnes' Booker Prize-winning novel.
Academy Award-winning British actor Jim Broadbent has been roped in to play the lead role of an ageing man looking back at his life, Mr Batra told the BBC.
Filming is due to begin in London later in the year, he said.
His debut film The Lunchbox was critically acclaimed and won several Indian and international awards.
"I have loved this book and I am thrilled to adapt one of my favourite novels to screen," Mr Batra said.
"The theme of the book resonates with me, of people looking back at their lives."
In his young days, Mr Batra says he shared his room with his grandfather and he witnessed "him looking back at his life, it's victories, defeats and regrets, so it's a theme that really appeals to me".
He agrees that the book - often described as "dark" - will not be easy to adapt, but says that debut screenplay by British playwright Nick Payne is "brilliant".
"Film is a different medium, but the screenplay is very faithful to the essence of the book," he says.
Barnes won the Booker Prize for The Sense of an Ending in 2011.
The film is being financed by BBC Films and New York-based FilmNation.
Batra's debut film The Lunchbox was an epistolary romance where a young housewife's lovingly cooked lunches meant for her distant husband are mistakenly delivered to an older lonely man.