'Attacked' India police horse dies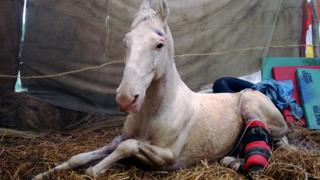 An Indian police horse that had a leg amputated after allegedly being assaulted by a politician has died.
The horse, named Shaktiman, had gone into shock after being administered anaesthesia by doctors who wanted to change his bandage.
The horse was fitted with a prosthetic leg and had been recovering well.
A legislator from the northern state of Uttarakhand was arrested after he allegedly beat Shaktiman at a rally. Ganesh Joshi denies the accusation.
He has been released on bail.
Video footage of the event appeared to show the animal's leg getting caught in a grill as it tried backing away from stick wielding protesters led by Mr Joshi.
The incident took place near the legislative assembly in the state capital, Dehradun last month, during a protest against the state government.
Dehradun senior superintendent of police Shivanand Datey told BBC reporter Raju Gusain that the horse had gone into shock after being administered the anaesthesia and vets had been unable to revive him.
Vets had been changing his bandage twice a week and the animal had been recovering well.
Rakesh Nautiyal, the veterinary officer looking after Shaktiman, had told the BBC that the horse was standing and "improving day-by-day".
The news has caused an outpouring of shock and grief on Indian social media.