Indian boy dies after tragic gun 'selfie'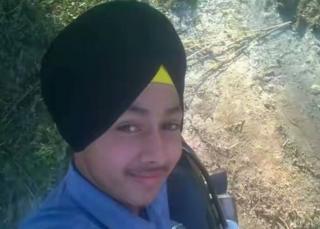 A schoolboy who accidently shot himself while allegedly posing with a handgun for a selfie has died in the north Indian state of Punjab.
Media reports said that Ramandeep Singh, 15, pulled the trigger of his father's gun while posing for a picture at his home in Pathankot on Friday.
He died in a local hospital on Sunday due to severe head injuries.
A senior police officer told BBC Hindi that an investigation was under way into the death of the boy.
The superintendent of police in Pathankot, Rakesh Kaushal, told BBC Hindi that that "the family was in a state of shock".
"The family has claimed that the boy died while trying to take a selfie with his father's revolver. We will be able tell more after we conclude our preliminary investigations," he said.
India has seen an increasing number of selfie-related accidents in recent months.
A teenager died in January in the southern city of Chennai (Madras) while taking a selfie on railway tracks.
Police in the western city of Mumbai also designated several "no-selfie zones" in the city after an 18-year-old girl drowned in the sea while taking a selfie in early January.
These include the iconic sea-facing Marine Drive promenade and the popular Girgaum Chowpatty beach, both of which are major tourist attractions.