Keenan and Reuben case: Murderers of Mumbai 'heroes' get life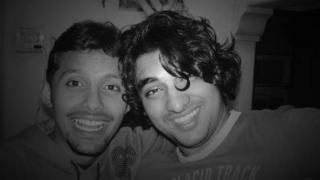 A Mumbai court has sentenced four people to life in jail for killing two men who tried to protect their female friends from being molested in 2011.
Keenan Santos and Reuben Fernandez were stabbed to death by the four men at a restaurant in Mumbai.
Prosecution lawyer Ujjawal Nikam praised the verdict, saying the court had set an example against sexual harassers of women.
The case sparked massive outrage and calls for justice for the victims.
Santos was 24 and Fernandez 29 when they were killed on 20 October 2011.
"When two of their female friends went to the [restaurant] restroom, the four convicts tried to molest them. When Keenan, Reuben and their friends objected to their actions, the four men assaulted them with knives," Mr Nikam told reporters outside the courtroom.
Friends and families of the victims were present in the court for the verdict.
Keenan Santos' father told reporters that he was "happy" with the judgement.
"But I know that the journey is not over. They [the convicts] will appeal the sentence in higher courts. Even if they go to God, I will stand there and ask for justice for my son. I will keep the fight going," he said.
Meanwhile, many Indians took to Twitter to welcome the verdict, making #KeenanReuben one of the top trending topics in India.
The issue of sexual assault has been in the spotlight in India since a 23-year-old student was gang-raped and murdered on a bus in Delhi in December 2012.
The case prompted global outrage and a tightening of India's laws on sexual violence.
But correspondents say tougher laws have failed to bring down the number of rape cases being reported and a series of high-profile crimes have taken place since then.