How India's female storytellers fought to be heard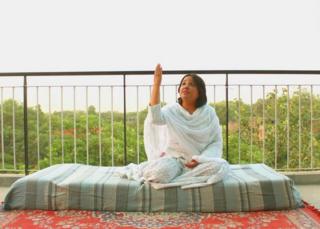 The fabled art of Dastangoi (storytelling) has seen a revival in India in recent years, but it has largely remained a male-dominated profession. Anasuya Basu meets two female storytellers who are challenging the norm.
Fouzia, who doesn't use a surname and is in her late 30s, says stories fascinated her when she was a child growing up in Delhi.
Her mother would often warn her that "cooking up stories will land you in trouble" but she wanted to "read every single story book" that her motorbike mechanic father could afford.
Fouzia's mother often read to her stories from great Urdu classics and that fired her imagination.
Today, Fouzia is one of India's best-known dastangos (storytellers) in Urdu.
Her craft involves oral telling of stories of adventure, magic and warfare.
Popular entertainment
Dastangoi is a compound of two Persian words "Dastan" (story) and "Goi" (telling). Shahid Siddiqui, the editor of the Urdu weekly Nai Duniya, said Dastangoi had been a popular source of entertainment in Central Asian countries and Iran.
He explained that the craft received "royal patronage in the Deccan region in southern India in the 16th Century and became a serious art form".
"During the Mughal era, Emperor Akbar is reputed to have been an expert dastango and did much to popularise this art," he said.
In the 21st Century, Fouzia is among a small group of women who are playing an important role in reviving the art form. She has chosen to remain single and dedicate her life to being a dastango.
"I studied Urdu in school so that I could read all the classics. I just knew I had to do something bigger with my love for the world of fantasy. I chose Dastangoi as a profession over a well-paying job and my family stood by me every step of the way," she said.
Fouzia funded her education through college and university by teaching children. She finished her masters in Hindi literature and started working as a project manager with a non-governmental organisation.
But she decided to give up her job to get trained in Dastangoi under historian and author Mahmood Farooqui, who is known for reviving the lost art form in India.
But she found it difficult to enter this all-male territory and still remembers that the audience was "surprised to see a woman dastango" when she gave her first performance in 2006.
"Women told stories in the privacy of their homes and never publicly. But I have tried to change the norm and have done 88 shows all over the country so far," she told the BBC.
She added that it was "difficult for her to break the stereotypes" as a Muslim woman.
"I didn't wear the hijab or the burka, so people were surprised initially but they gradually accepted me," she said.
Inspirational story
Noted playwright Danish Iqbal has watched Fouzia's struggle to establish her identity as a woman storyteller in the past decade.
"Given her modest background and with no godfather to help, she has done a commendable job of not giving into social pressures and keeping herself motivated in the face of criticism, poor turnout at shows and professional rivalry," he said.
Mr Iqbal said that she "never followed any shortcuts" and often "rehearsed for six months to prepare for one show".
Other women have also taken up the profession.
Poonam Girdhani, 39, a freelance writer and radio artist, shed her inhibitions five years ago, and has shared the stage with Fouzia on many occasions.
"I have been a dastango for the last five years. People who do not speak Hindi or Urdu have also flocked to my shows," she told the BBC.
Her most successful show as part of Mr Farooqui's team is Dastaan Alice Ki, an adaptation of Lewis Carroll's Alice's adventures in Wonderland and Through the Looking Glass, where the audience actively engaged with her in expressing their feelings about being transported to the enchanting world of Alice. 
"The big reward of a dastango is to be able to transport the audience to another world where the story unfolds, to recreate the magic through the power of only words," Ms Girdhani said.
Mr Farooqui says Dastangoi has infinite potential to become a hugely popular source of entertainment in India.
"It requires very little infrastructure to do Dastangoi - just a place to sit, microphones and some candles to give the place some old-world charm. People are increasingly getting interested as it is very different from reading a story and there's a lot of voice modulation involved," he said.
Driven by their love for storytelling, Fouzia and Ms Girdhani have broken down barriers to storm into the male bastion of dastangos.
Often dressed in pristine white, they love transporting a bunch of strangers to an enchanted world of stories and that too with mere words spoken in impeccable Urdu.