India parliament to take up key GST bill in monsoon session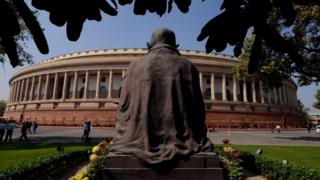 The Indian parliament has begun its monsoon session amid renewed tensions in the Kashmir region.
Prime Minister Narendra Modi has already thanked political parties for "speaking in one voice" on the region where clashes between civilian protesters and security forces have left 41 people dead.
The crisis was sparked by the killing of a separatist militant, Burhan Wani.
The Goods and Services Tax (GST) bill is also due to come up for passage.
Mr Modi has urged political parties to pass the bill which seeks to streamline India's fragmented tax system with a single levy.
Indian businesses have been lobbying for the single tax rate as it would reduce costs, particularly for shipping goods across state borders.
The bill was passed by the Lok Sabha, the lower house of the Indian parliament, last year, but it has been stuck in the upper house of parliament, or the Rajya Sabha, where Mr Modi's BJP does not have a majority.
A number of past parliamentary sessions have also been disrupted by opposition parties.
Some analysts have said this session may also be disrupted over issues such as India's failed attempt to get membership to the Nuclear Suppliers Group.
On the opening day of the session on Monday, the lower house was adjourned until Tuesday morning to condole the recent death of an MP.