India comedian's angry tweet to Modi goes viral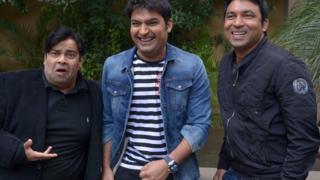 An angry tweet by a popular Indian comedian to Prime Minister Narendra Modi has gone viral.
Kapil Sharma said he was asked to pay a bribe of 500,000 rupees ($7,492; £5,632) to build his Mumbai office, despite paying huge taxes.
He tweeted, "Yeh hain aapke acche din? (Is this your idea of good days?)", referring to Mr Modi's campaign slogan in the run up to his 2014 poll victory.
The Mumbai civic authorities said the office structure was illegal.
But, they told reporters that they had begun an investigation into the corruption allegations.
It is not clear whether Mr Sharma paid the bribe or not. The state government has promised strict action against the "culprit" who demanded the bribe..
The comedian hosts a television show called the Kapil Sharma show which has a cult following in India.
Film stars regularly appear on it to promote their upcoming projects.
Many users on Twitter, where the prime minister enjoys a lot of support, accused Mr Sharma of seeking publicity and some asked him why he complained if he had already paid the bribe.
Others jumped to the comedian's defence, noting that the issue of having to pay bribes to get work done was a serious one.