Australia parliament opens after knife-edge election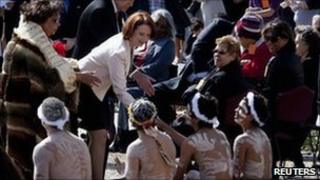 Australia's new parliament has opened in Canberra, following the country's closest election in 70 years.
Prime Minister Julia Gillard won the first major test of her Labor government after her nominee was re-elected parliamentary speaker.
Ms Gillard was forced to seek the backing of independents and Greens to form a government after August's poll.
The leader of the opposition Liberals, Tony Abbot, has vowed to lead a "ferocious opposition" in the assembly.
Ms Gillard - Australia's first woman prime minister - called an election after ousting former Prime Minister Kevin Rudd in an internal Labor party revolt in June.
Being grounded
The distinctive sound of the didgeridoo - part of a welcome to country ceremony performed in the presence of Aboriginal elders - marked the opening day of the new parliament.
Shortly afterwards, Labor MP Harry Jenkins was re-elected unopposed as speaker of the 150-seat lower house.
Ms Gillard's Labor Party has the backing of one more MP than the Liberal-led coalition, and analysts say the prime minister will be forced to negotiate issue-by-issue with the opposition.
Moreover, Mr Abbott, who came close to beating Ms Gillard, is insisting that ministers attend all votes, severely limiting the ability of government ministers, including Ms Gillard herself, to travel, BBC correspondent Nick Bryant says.
It raise the spectre of foreign, trade and defence ministers being grounded in the capital, and of Ms Gillard's overseas trips to be limited to major meetings of world leaders or visits to major trading partners, our correspondent adds.