Clinton calls for greater OSCE role in Afghanistan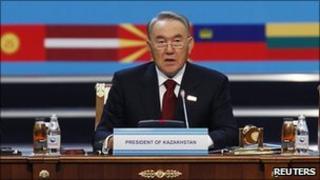 US Secretary of State Hilary Clinton has called on the Organization for Security and Co-operation in Europe to play a greater role in Afghanistan.
Mrs Clinton said the OSCE could help improve border security, fight drug trafficking and promote development.
Kazakhstan is hosting the first summit of the 56-member group in a decade.
Critics say the event is little more than a talking shop, and a clever way for the oil-rich country to boost its image overseas.
Kazakhstan is the first ex-Soviet country to chair the OSCE. The summit is by far the biggest international event ever to be held on Kazakh soil.
Vital supply route
Regional security, frozen conflicts and the war in Afghanistan are on the agenda in Astana.
Mrs Clinton said the OSCE should play a full role in preventing new conflicts and seeking peaceful solutions to ongoing regional problems among participating states, including ethnic violence in Kyrgyzstan in June and the short war between Georgia and Russia two years ago.
Kazakhstan's President Nursultan Nazarbayev said: "The acute political situation in Kyrgyzstan could become the catalyst for new conflicts in Central Asia."
Stability in Central Asia is important to US and Nato efforts in Afghanistan, as several countries are part of the Northern Distribution Network (NDN).
It is a series of rail, water and road links via Russia, the Caucasus and Central Asia through which non-lethal military cargo such as construction materials, fuel and medicine is transported to troops in Afghanistan.
The NDN is an alternative to the main supply route via Pakistan which is under constant Taliban attack.
Human rights
The presence of so many top politicians from around the world is something that human rights advocates have been hoping will attract attention to the region's poor human rights record, says the BBC's Rayhan Demytrie in Astana.
Throughout its chairmanship of the OSCE this year, Kazakhstan has been criticised for its rights record.
The government had promised to make amends when it was awarded the chair in 2007.
But, rights groups say, now that the country's leadership has achieved its main foreign policy goal of hosting the summit, it is happy to weather international criticism.
And, given that many of the leaders present will be facing each other for the first time since the latest Wikileaks US diplomatic cables were published, any residual concerns about Kazakhstan's human rights record are likely to be almost entirely drowned out, our correspondent says.