Burma undergoing political change - UN envoy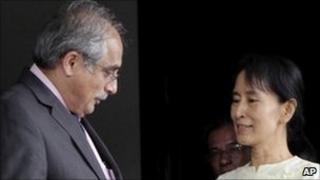 The UN envoy to Burma has said it is clear that political change is taking place in the country, despite UN criticism of last month's poll there.
Vijay Nambiar told the BBC that parliamentary by-elections could now open up "opportunities" for broadening the political spectrum.
The party of pro-democracy leader Aung San Suu Kyi boycotted the election, won by the biggest military-backed party.
She was not released from house arrest until after the poll.
"Government formation is taking place (in Burma). I think there will be new spaces, new slots in the parliament which will open up for by-elections," Mr Nambiar, who visited Burma last week, told the BBC Burmese Service.
He described the by-elections as "small opportunities for increasing the political space for a broader, inclusive involvement".
Mr Nambiar's comments come despite strong criticism of Burma's poll by the UN, which said they were neither free nor fair.
The elections on 7 November - the first to be held in Burma in 20 years - were won by the Union Solidarity and Development Party (USDP).
Six days later, Aung San Suu Kyi was released from house arrest. Her now-disbanded National League for Democracy (NLD) won the last election in 1990, but was never allowed to take power.
She has urged her followers not to give up hoping for change and has also said she is willing to talk to Western nations about lifting sanctions on Burma, which she previously supported.