North and South Korea hold first talks since shelling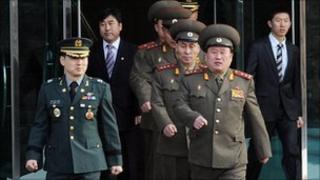 Military officials from North and South Korea have held their first talks since the North shelled a South Korean island in November, leaving four dead.
South Korea said the talks, at the border village of Panmunjom, were intended to lay the groundwork for higher-level meetings.
Relations have been extremely tense since 46 South Koreans died when their warship was sunk last March.
Seoul blamed the North for the incident, something Pyongyang denies.
Tuesday's talks, held between colonels, could pave the way for a meeting of the two countries' defence ministers.
A summit between the two Koreas' leaders is a possibility, says the BBC's Nick Ravenscroft in Seoul.
However, the South is wary of a talks process that wins aid for Kim Jong-il's administration in the North without concessions in return, our correspondent says.
South Korea says the North must show "sincerity" before receiving economic assistance. Pyongyang has spoken instead of an "exchange of views".
Mr Kim is widely thought to be preparing his youngest son to take his place, our correspondent says, and successful talks, bringing aid to his cash-strapped country, may ease the dynastic succession.
Meanwhile, South Korean officials are continuing to question 31 North Koreans intercepted at the weekend on board a North Korean fishing boat a few kilometres south of the disputed sea border and close to Yeonpyeong island.
An official said that the North Koreans were workers and not family members, adding that no children were on board.
It is unclear whether they are defectors or whether the boat inadvertently drifted south in thick fog.