Two survivors found in quake-hit Japan city Ishinomaki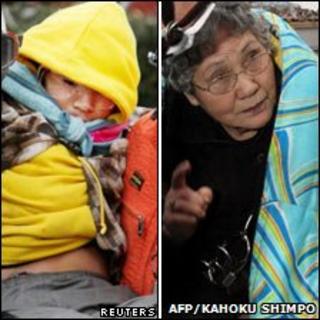 An 80-year-old woman and a 16-year-old boy have been plucked from the rubble of a house demolished by the enormous quake which hit Japan nine days ago.
Sumi Abe and Jin Abe - said to be her grandson - "were found under debris", said a police spokesman in Ishinomaki city, Miyagi prefecture, according to AFP news agency.
The two were in the kitchen when the quake hit on 11 March, a doctor said.
They survived as they were able to get yoghurt and other food from the fridge.
The grandson eventually managed to reach the roof of the house where he flagged down a rescue helicopter, reported Japan's NHK news service.
The two are now being treated in hospital in Ishinomaki.
"Their temperatures were quite low but they were conscious," the police spokesman said.
He said details of their condition were not immediately available, though a rescuer was quoted as saying the boy was found shivering and with no feeling in one leg.
Miyagi was the worst-hit in the double disaster of the quake and tsunami of 11 March, with police now saying they fear 15,000 lives could have been lost in that prefecture alone.
On Saturday the military announced a man had been found alive in rubble, but it later turned out that he had been in an evacuation centre and had tried to return to his home.