Sichuan earthquake: Chengdu yet to fulfil office pledge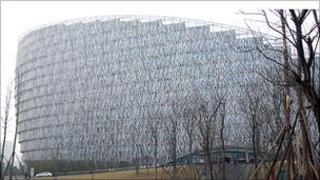 A Chinese city government is still using an office building nearly three years after it promised to sell it and move out.
Chengdu officials were in the process of moving into a plush new office complex when the Sichuan earthquake struck in 2008.
People were outraged it was happening just as the city was dealing with the aftermath of China's worst natural disaster in decades.
Officials eventually pledged to sell the buildings and use the money for earthquake reconstruction - but one office block is still being used.
Considering the public outcry three years ago, it is not surprising that this is something Chengdu's leaders do not want publicised.
They have gone out of their way to keep it out of the public eye.
French architect
As far back as 1999, Chengdu officials began planning a new office complex to bring together local government departments.
Officials also wanted to build some "symbolic" architecture.
French architect Paul Andreu - who designed Beijing's stunning egg-shaped national theatre - won the right to build the centre.
Work began in 2004 and finished three years later, after a massive investment of 1.2b yuan ($180m; £110m).
Some departments began moving into the complex, comprising nine buildings set in gardens with trees and lakes, in March 2008.
But the timing could not have been worse.
Two months after the move began, disaster struck. The Sichuan earthquake, whose epicentre was just north of Chengdu, left 90,000 people dead or missing.
Hundreds of thousands more were made homeless.
The idea of officials moving into luxurious new offices as others were struggling to survive was a situation that soon drew public criticism.
The local government decided to postpone the move and then, at a well publicised news conference, announced it was selling the complex.
Three years on, though, officials have not completely fulfilled their promise.
They say most of the buildings in the complex have been sold for a total of 1.5b yuan, which will be used to fund continuing reconstruction work.
Watchful guards
But they are still quietly using building No 4, as the BBC found out when we visited.
There is nothing to suggest that the beautifully arranged group of buildings were once intended for government use.
The complex is now called Tianfu International Financial Centre, home to businesses such as the China Minsheng Banking Corporation.
It is protected by watchful guards; visitors are not encouraged.
Anyone who manages to get through the security checks will find it difficult to guess the use of building No 4.
Top-of-the-range cars bring a constant stream of visitors to the main entrance, but there is no sign to indicate the business taking place within. There is no helpful reception desk.
But the building's corridors are home to local government departments: the city's news publishing department and the sports bureau are just two.
When the BBC visited, there was a meeting in the basement for firms wanting to register as city-level technology companies.
Nearby was an exhibition on Chengdu's educational achievements.
City officials did not want to talk to the BBC about why they have not yet moved out of building No 4.
And for the moment, Chengdu's residents seem satisfied that the remaining government departments will, eventually, quit the complex.
"People paid a lot of attention to these buildings because they cost too much money - money that should have been used where it was needed most," said resident Xu Linli as she walked home from work past the controversial office complex.
"The city government is resolving this issue by gradually moving out. But if it doesn't move, the dispute won't go away."
The secrecy surrounding the move suggests Chengdu's leaders already understand that point.