UN puts East Timor police back in charge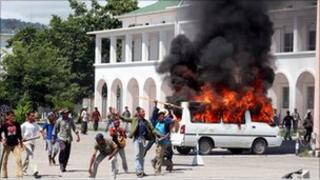 The East Timorese police force has now taken back full control of security in the country from the United Nations.
UN forces took charge of East Timor's security in 2006 after a series of violent clashes which threatened to push the country into civil unrest.
The UN has been slowly transferring power back to the East Timorese police force ever since it took over security operations five years ago.
UN forces were first withdrawn after East Timor gained independence in 2002.
But four years later a third of the armed forces were dismissed, sparking clashes between the police and the military - 15% of the population fled their homes.
Some UN police will still remain in the country until next year's elections, when the UN's peacekeeping mission officially ends.
"We will continue to work side-by-side," UN Special Representative for East Timor Ameerah Haq said.
She said the East Timorese police would be "squarely in the driver's seat". The UN will focus on training.