China police catch killing spree suspect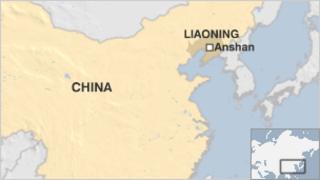 Police have caught a man suspected of killing 10 people after going on a rampage in north-east China, state media report.
Zhou Yuxin, 33, is thought to have killed his wife, son and father in a series of attacks in Liaoning province.
Workers at the businesses run by the suspect were also found dead.
Police believe extra-marital affairs could have been behind the killings, according to a report by the state-run news agency Xinhua.
Mr Zhou was caught in his hometown of Dashiqiao, about an hour by train from the scene of the killings in the city of Anshan, Xinhua quoted a local police official as saying.
Mr Zhou allegedly carried out the murders on Wednesday and Thursday.
As well as his own family members, he is also suspected of killing a female bathhouse worker and three employees at a carwash. Both businesses were run by Mr Zhou.
He also targeted the family of his landlord, killing three people.
Police have sealed off the crime scenes and officers from Anshan have been sent to bring him back for questioning, according to reports.