Chinese overseas students 'hit record high'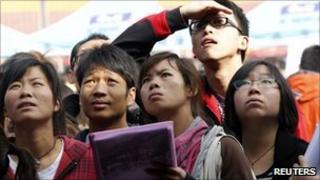 A record number of Chinese students are studying in foreign universities, the country's Education Ministry says.
Officials say there are now some 1.27 million students attending foreign universities.
In 2010 alone more than 284,000 Chinese went abroad to study, most of them privately funded.
At the same time, more Chinese students are choosing to return home to work after graduation.
Chinese officials say the country has the largest number of overseas students in the world.
Since China's opening up and economic reforms in the late 1970s, the government has been funding programmes to send people abroad to acquire knowledge and skills.
Now more middle-class families can afford it themselves and about 93% of Chinese students are self-funded.
Their top destinations are English-speaking countries like the United States, Australia, the United Kingdom, and Canada, as well as a number of other Western countries.
Some of the universities have received so many applications from China that they say they have had to use a quota system to limit Chinese student numbers.
In the 2009-2010 academic year, for example, the University of Cambridge had nearly 1,000 Chinese students, mostly from mainland China, reading for undergraduate and postgraduate degrees in engineering, sciences, mathematics, international relations, economics and finance, and administration.
While Chinese students have brought money to foreign colleges and universities hard-hit by the global financial crisis, China is getting the knowledge and skills needed to drive the country's rapid growth.
In the past 30 years or so, more than 630,000 Western-trained students and scholars have returned home, about one-fifth of that number in the last year alone.
Many of them are now engaged in research and development that is boosting China's global competitive position.