Japan plant: Radioactive water pumped from reactor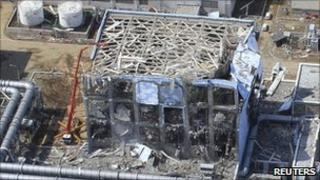 Workers at Japan's quake-hit nuclear plant have begun removing highly radioactive water from the basement of a reactor building to on-site storage.
Removing the 25,000 tonnes of water should give workers access to carry out repair work to vital cooling systems knocked out by the 11 March tsunami.
The plant operator Tepco has said it expects to bring the crisis under control by the end of the year.
But the government has warned there could be unforeseen setbacks.
Emergency workers have been unable to enter any of the damaged reactor buildings at the Fukushima Daiichi plant since the natural disasters.
The contaminated water in the basement of reactor No 2 will be removed in stages, said Hidehiko Nishiyama of Japan's Nuclear and Industrial Safety Agency (Nisa).
In all, there are 70,000 tonnes of water to be removed from the plant's reactor and turbine buildings and nearby trenches - a process that could take "several months", the agency said.
The waste water will be kept in a storage building on-site.
This building had been previously flooded during the tsunami with lightly contaminated water that was later pumped into the ocean to make room for the more heavily irradiated water.
Tepco is hoping to develop a system to treat the water so that it can be re-used in cooling reactors 1-3, Mr Nishiyama said.
"We hope to gradually reduce contaminated water through that process," he said, adding there were "no plans whatsoever" to discharge any more contaminated water into the sea.
Mr Nishiyama also said there was no major release of radioactivity from the plant at present.
He said avoiding any further radiation release was one of the government's top priorities in dealing with the crisis.
It is hoped that once the water removal process is complete workers can enter the buildings to try to restore cooling systems for reactors 1, 2 and 3, and cooling functions at the plant's five spent fuel ponds.
Two remote-controlled robots sent into reactor buildings 1 and 3 on Sunday showed that radiation levels inside were still too high for humans to work there for any extended period of time.
The so-called Packbots were sent into reactor 2 on Monday, officials said, and the radiation readings were much lower.
However, high levels of humidity fogged the robot's camera lens making it difficult to see conditions inside. They were pulled out after less than an hour, officials said.
"We didn't want to lose sight of where the robot was and then not be able to retrieve it," said Tepco spokesman Hikaru Kuroda said.
The reason for the higher humidity was not clear, but it suggests that if workers were to enter the building they would have difficulty seeing through their masks, Mr Kuroda said.