Chinese volleyball team look to Mao for inspiration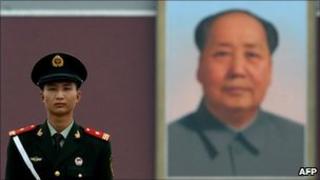 China's female volleyball team has enlisted some unusual support in its bid to regain its former glory days.
The team has been studying the poetry of former communist leader Mao Zedong.
They believe Chairman Mao's inspiring words will improve their performances at the London Olympics next year.
The volleyball players are not the only ones in China who have shown a renewed interest in the past - the city of Chongqing is currently promoting the values of China under Mao.
The volleyball players spent six days studying Mao Zedong's poetry at a special training session in Zhangzhou in Fujian province.
They focused on one poem in particular, The Long March, learning it by heart and reciting it at groups sessions.
Some players studied the verse in their spare time.
The poem recounts the epic journey undertaken by Mao's communist forces from 1934-35, as they fled the army commanded by Chiang Kai-shek, China's leader at the time.
Tens of thousands of communist soldiers died in this trek over thousands of kilometres, with only a few thousand making it to safety.
The volleyball coaches hope the poetry will inspire their players.
It will "enrich the athletes' cultural life and traditional revolutionary education", according to an article on the official website of the China Volleyball Association.
They also hope it will prepare them for victory at the London Olympics next year.
The team has traditionally been strong, winning gold at the Olympics and other international events.
But results have not been great over recent years.
"The Red Army fears not the trials of the Long March," wrote Mao in the poem, penned in 1935 shortly after he became the leader of China's scattered communist forces.
Volleyball coaches will no doubt be hoping the players will adopt a similar attitude to London.