China: 20 workers engulfed by landslide near Guilin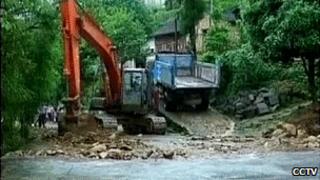 A landslide triggered by heavy rain has buried more than 20 quarry workers in southern China.
Rescuers are digging through rubble in the search for survivors, according to the official Chinese news agency Xinhua.
The disaster happened in the village of Luojiang, near the city of Guilin, a popular tourist destination.
An area roughly the size of a football pitch was engulfed, including a dormitory used by the workers.
The landslide happened at 1330 local time (0530 GMT), according to a spokesman from the municipal government's flood control and drought prevention office.
Tourists stranded
A medical team has arrived at the quarry, but there is no word yet on casualty figures.
The incident followed a rainstorm at the weekend across the Guangxi Zhuang Autonomous Region, where the village is located. The local terrain features steep hills and thick jungle.
More than 10cm (4 inches) of rainfall was measured in Guilin on Saturday evening.
The nearby village of Zhongfeng was partially flooded, and around 70 residents were evacuated from their homes.
The rain also created problems when 130 tourists were briefly stranded at a countryside resort because of flooded roads.