Fiji protest at Tonga 'extraction' of former army chief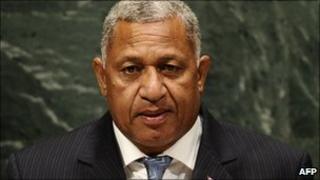 Fiji's military ruler, Commodore Frank Bainimarama, has accused Tonga of helping a suspect on sedition charges to escape from Fiji.
Cmdr Bainimarama said Tonga had illegally sent a navy patrol boat last week to pick up Fiji's former army chief Lt Col Tevita Mara.
He said he would be lodging a formal protest with Tonga's prime minister.
The Tongan government has said only that it responded to a distress call and rescued one person.
Col Mara was charged earlier this month with plotting to overthrow Cmdr Bainimarama, who took power in a 2006 coup.
"The Fijian government takes strong exception to such breaches of Fiji's sovereignty," Cmdr Bainimarama said in a statement published on his government's website.
He said the escape was a "conspiracy by a handful of self-interested individuals", which should not be allowed to harm ties between the two nations.
'Tragic oppression'
Declared a fugitive, Col Mara is the son of the late former prime minister of Fiji, Kamisese Mara.
"The rescued passenger has been brought to Nuku'alofa, where arrangements have been made for his accommodation by the royal household office in deference to his rank," the Tongan government's statement said.
Meanwhile, YouTube footage which appears to show Col Mara alleges the sedition charges against him are "trumped up".
"When I was rescued by the Tongan navy, I asked to be brought to Nuku'alofa where, under the sure protection of King George's government, I shall be able to tell the truth, without fear of retribution, about the tragic oppression which stifles my beloved land," he says on the YouTube clip.
He describes the Bainimarama government as a "hateful dictatorship".
New Zealand Prime Minister John Key said the flight of Col Mara highlighted the fragility of the Bainimarama regime.
"Tevita Mara is the guy that was Bainimarama's right-hand man when he undertook the coup back in 2006, so the fact that he's jumped ship is a very interesting development there," Mr Key told New Zealand TV.
In March this year, a former Fijian government minister, Samisoni Tikoinasau, also known as Sam Speight, said he would seek political asylum in Australia.