US envoy in South Korea for nuclear and food aid talks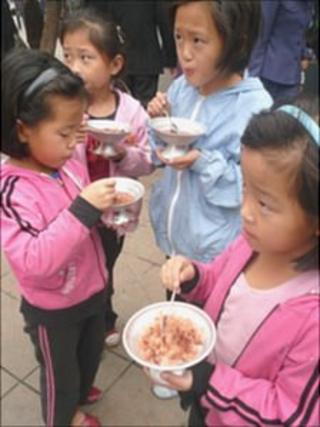 The United States envoy on North Korea, Stephen Bosworth, has begun three days of talks in the South Korean capital on nuclear issues and food security.
He met South Korea's nuclear envoy Wi Sung-lak amid efforts to revive talks to end North Korea's nuclear plans.
Mr Bosworth said he had reached a common view with Seoul on food aid for the North, but refused to give details.
His visit follows a leaked UN report on North Korea's alleged sharing of ballistic technology with Iran.
He told a news conference that a decision would be taken in the coming days on whether the US North Korea human rights envoy would visit the country.
Food aid is a contentious issue, following recent comments by figures such as former US President Jimmy Carter to the effect that politics should not interfere with people's right to eat.
South Korean analysts have expressed fears the North wants to stockpile food ahead of next year's 100th anniversary celebrations of the birth of the North's first leader, Kim Il-sung.
Aid agencies have said a harsh winter has forced people to eat grass and tree bark to survive.
Hundreds of thousands of North Koreans died in a famine in the 1990s.
Scepticism
Mr Bosworth also criticised North Korea's Uranium Enrichment Programme, calling it "illegal under UN Resolutions and contrary to various undertakings" North Korea had given to Washington and others.
The enrichment programme is due to be discussed at the UN on Tuesday.
Mr Bosworth is also due to meet South Korean National Security Adviser Chun Yung-woo and Unification Minister Hyun In-taek during his stay in Seoul.
Envoys from each of the six nations in talks on North Korea - the two Koreas, China, Russia, Japan and the US - have met individually in recent months, often shuttling from one capital to the next.
Talks on North Korea's denuclearisation stalled in 2009. Efforts to revive them were complicated by North Korea's apparent sinking of a South Korean warship last March at the cost of 46 lives, and its shelling of a South Korean border island in November.
Seoul has wanted apologies, or at least acknowledgement, from the North before talks can resume.
Previous approaches to persuading the North to end its nuclear plans have included promises of aid and replacement technologies for Pyongyang.
The BBC's correspondent in Seoul, Lucy Williamson, says the idea that seems to have gained most traction is a three-stage process, in which the two Koreas will meet first, paving the way to talks between the US and Pyongyang, and then to full six-party negotiations.
But, she says, getting to that first stage is proving tricky, not least because the leaders of both North and South Korea have extended invitations to each other in the past few weeks, only for each to be rebuffed.