UNCHR questions Australia-Malaysia asylum deal legality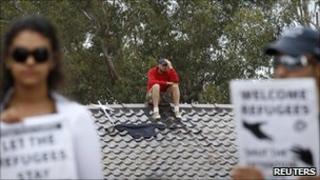 The United Nations commissioner on human rights has questioned the legality of Australia's latest plan to deal with the problem of boat people trying to reach its shore.
Navi Pillay said that a proposed deal with Malaysia to send 800 asylum seekers to the country potentially violates refugee law.
She also called on Australia to be more humane to asylum seekers.
Malaysia is not a signatory to the UN Refugee Convention.
For the government of Julia Gillard, the proposed deal with Malaysia over asylum seekers helped address a logistical and political problem.
Australian detention centres are struggling to cope with the number of asylum seekers heading here by boat and there has been violent unrest over the past couple of months at its two main facilities, in Sydney and on Christmas Island in the Indian Ocean.
Under the plan, Australia would transfer 800 boat people to Malaysia to have their refugee claims processed, but the UN's commissioner on human rights has questioned its legality.
"If Australia is serious about this policy of sending 800 people out to Malaysia, then I think it violates refugee law," said Ms Pillay.
"They cannot send individuals to a country that has not ratified the torture convention, the convention on refugees," she said.
"So there are no protections for individuals in Malaysia. And Australia, of all people, that upholds (international standards), should not collaborate with these kinds of schemes."
Ms Pillay said that Malaysia offered no protections for asylum seekers and was pointed in her criticism of the Gillard government's overall approach to the boat people question.
"The first option should not be how best to turn away people, the first option should be how to receive people," she said.
Human rights organisations like Amnesty International have slammed the proposal deal, the "Malaysian Solution" as it has been dubbed in the media.
It is claimed that asylum seekers would face inhumane detention facilities, lengthy waits while their claims were processed and the possibility of torture, in the form of caning.