South Korea police break up Yoosung Hyundai strike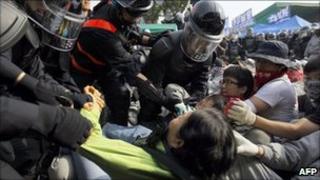 South Korean police have broken up a strike at a car parts factory which was threatening the country's car industry.
More than 3,000 riot police moved in to disperse protesters at the Yoosung Enterprise factory in Asan, south of Seoul, Korea's Yonhap news agency said.
About 500 workers had been staging a sit-in at the factory since last week after wage negotiations broke down.
Hyundai, South Korea's top carmaker, had warned it was facing severe disruption to production.
Yoosung manufactures piston rings, which are key components in car engines.
Hyundai had already suspended production of diesel engines at its Ulsan plant and warned earlier on Tuesday it could also have to stop production of petrol or gasoline engines.
Supply disruption was also expected to hit its subsidiary car manufacturer Kia Motors.
Yoosung also supplies parts to the Korean units of General Motors and Renault.
'Negative impact'
In a statement issued before the raid, the Korea Automobile Manufacturers Association said the industry could lose up to five trillion won (£2.8bn: $4.57bn) if the stoppage ran into June, and urged the union to consider the "negative impact" of the strike.
Officials at the plant said the strike was illegal because those taking part were occupying the production line and blocking non-strikers from entering the building.
"Police have marched into the plant... so far without any violent clashes," a police spokeswoman in Asan told the AFP news agency.
Yonhap said police had secured warrants for the arrest of two union leaders involved.
The majority of strikers occupying the plant were detained while others were dispersed, a police statement said, adding that most of those in detention would be released later.
It remains unclear when production might resume at the plant.
The disruption comes as South Korean carmakers are poised to take market share from their Japanese rivals, which are suffering from parts shortages of their own.
Hyundai reported record profits in the final three months of last year, due in part to strong overseas sales in China and the US.
Analysts had been expecting the carmaker, the fifth-biggest in the world, to continue to perform well in 2011.
There were concerns that serious disruption to production lines could have affected those forecasts.