Indonesia ferry capsizes off Borneo killing at least 25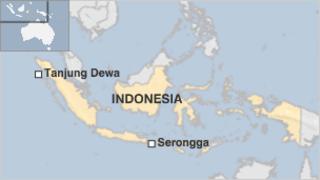 An Indonesian passenger ship has capsized off the island of Borneo, killing at least 25 people. More than 70 others reportedly survived.
The wooden ship was carrying four crew members and around 100 passengers at the time of the sinking.
Officials said overcrowding or bad weather might have caused the incident off South Kalimantan.
Ships are a key form of transport across the archipelago and accidents are not uncommon.
The boat had departed from Tanjung Dewa and was heading towards Serongga when it sank late on Monday, officials said.
"It was raining very heavily yesterday so weather might have caused the accident. We're also investigating if [it was] over capacity," local port authority official Hariyono was quoted by AFP as saying.
Indonesia comprises more than 17,000 islands. Overcrowding, high seas and poor safety standards have caused many fatal accidents.