Thai prime minister defends rise to power on Facebook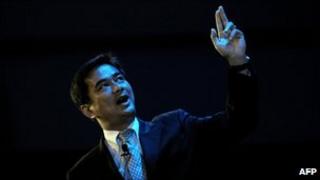 Thailand's Prime Minister Abhisit Vejjajiva has posted a vigorous defence of his rise to power on his personal website and Facebook page.
The move comes in the middle of a hard-fought election campaign in which the ex-prime minister, Thaksin Shinawatra, is becoming a central issue.
Mr Thaksin was ousted in a military coup in 2006 and lives in exile to avoid a jail term for corruption.
Thailand's recent turbulent history is resurfacing as the 3 July poll nears.
The main opposition party, and its anti-government, red-shirted supporters have long been suspicious of the way Abhisit Vejjajiva was able to form a government.
He became prime minister via a parliamentary vote, after a court ruling forced the collapse of the previous administration which was loyal to Mr Thaksin.
The opposition complains that the courts are stacked against it and that the military may have had a hand behind the scenes in forming the current government.
Mr Abhisit's rise to power was perfectly legal, as he is at pains to point out in a long and detailed post on his website.
He denies in his website defence that he had any inappropriate dealings with the military and says people have been fed misinformation aimed at discrediting him.
But the fact remains that his party has not won any of the past three elections and it faces a tough battle in this latest campaign.
It is up against a rejuvenated opposition led by Mr Thaksin's youngest sister, Yingluck.
Mr Abhisit's party says the opposition's entire campaign is aimed at rehabilitating Mr Thaksin and ultimately returning him to power.
The election is becoming more and more focused on the fate of a former prime minister rather than on the candidates officially vying to be the next.
Meanwhile an ultra-royalist group is gathering signatures for a petition calling on the revered king to suspend democracy altogether in Thailand on the grounds that all politicians are corrupt.