Philippines massacre: Ampatuan assets frozen by court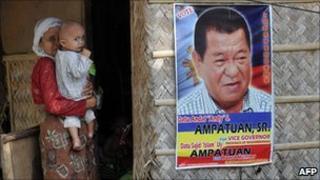 A Philippine court has frozen $23m (£14m) worth of assets owned by those allegedly behind the worst massacre in the country's recent history.
Senior members of the Ampatuan family are accused of ordering the killing of 57 people in 2009.
Prosecution lawyers have welcomed the asset freeze, but question why it has only happened now, a year-and-a-half after the massacre.
The Ampatuans are one of the richest and most powerful clans in the country.
The Philippine Court of Appeal has ordered that funds in bank accounts, businesses and property belonging to the Ampatuan family should be frozen, while investigators work out how all the wealth was accumulated.
Andal Ampatuan Senior, who is accused of masterminding the massacre, is thought to own 27 homes and 91 vehicles.
The Anti-Money Laundering Council claims that some of the money was gained through illegal activities, and it now has 20 days to find enough evidence for this, in order to extend the asset freeze indefinitely.
Questions about the Ampatuans' wealth have been circulating here for decades, but it was only after they were accused of the massacre in 2009 that serious investigations began.
Andal Senior and two of his sons - together with more than 100 others - are accused of carrying out the killings to get rid of a political rival.
Harry Roque, a lawyer who represents the families of massacre victims, welcomed the fact the Ampatuans' assets had been frozen, but questioned why the process had taken so long.
"We hope there is still something to freeze," he said.