New Zealand plane in 'bird strike' drama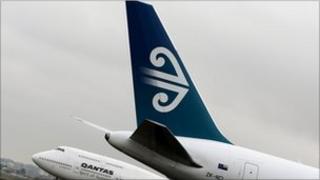 A passenger plane has been forced into an emergency landing at Auckland airport in New Zealand, after flames spewed from one of its engines.
Passengers on the Air New Zealand Boeing 767 said they heard loud bangs and saw flames shortly after take off.
The airline said the incident might have been caused by an engine bird-strike.
The plane was heading to Perth in Australia with more than 200 passengers on board.
"We were right near the wing so we saw the flames. I thought … what's going on?'' one passenger, Maria McCarthy, told the New Zealand news website Stuff.
The website quoted an Air New Zealand statement as saying the captain of the flight had shut down the left-hand engine and briefed the passengers on board.
He explained that "any flames seen from the engine is not unusual when it is shut down in flight".
The airline said there appeared to be no visible damage to the engine, and engineers were now examining the plane.