Colombia bid to rescue kidnapped Chinese oil workers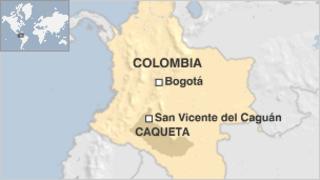 The Colombian military has launched a major operation to rescue four Chinese nationals kidnapped by Marxist rebels.
The four men were working for the British oil company Emerald Energy, a subsidiary of China's Sinochem.
They were intercepted in the southern province of Caqueta by Farc, the Revolutionary Armed Forces of Colombia.
This is the second mass kidnapping of oil workers by the guerrillas this year and is an embarrassment to the government.
The rebels have long used kidnapping as a source of income, although in the last 10 years the number of cases has fallen from eight abductions a day to under one.
However this is not the first time the Farc have targeted oil companies this year.
In March rebels snatched 23 workers in the eastern province of Vichada. All but one were later released.
The latest kidnapping is further embarrassment for the government of President Juan Manuel Santos, who has made foreign investment one of the cornerstones of his economic policy.
Farc numbers are thought to have fallen from around 16,000 fighters to 8,000 today.
However they still engage the security forces every day and just celebrated their 47th anniversary, with no end in sight for the civil conflict.