China 'fake fines' gang members arrested across Asia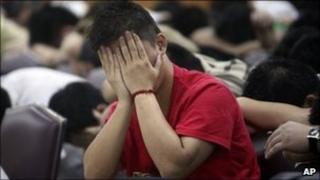 Hundreds of Chinese and Taiwanese citizens have been arrested in countries throughout Asia over a scam involving fake fines.
Police say the suspects contacted people in China and Taiwan and extorted money from them by claiming they had been issued with court summonses.
Some 170 suspects were held in Indonesia, and 166 more were arrested in Cambodia.
There were also arrests in Thailand and the Malaysian city of Kota Kinabalu.
Senior Malaysian police official Syed Ismail Syed Azizan said the gang would call their victims - most of whom were in China - and route calls through the internet to make it appear as if they were local.
"They would pose as a court officer and contact their victims claiming that one of their family members had been charged in court for an offence," he said.
"They would then provide a false number and when the victims call the number, they would be asked to pay a certain fee via a bank account in order to cancel the summonses."
The callers would also pretend that their victims owed traffic fines, according to a report in Malaysia's New Straits Times newspaper.
Thai police said the gang was also involved in scams where they would pose as bank staff.
Officials say thousands of people in China may have been taken in by the scammers.
Cambodian police chief Kirt Chantharith said the suspects would be sent back to China after being questioned.
"In principle, we will repatriate them back to face trial under Chinese law, but we don't know when we will do that because the investigation is still ongoing," he told the Phnom Penh Post.
Chinese officials have yet to comment on the case.