Indonesia arrests over police 'cyanide plot'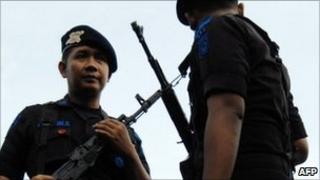 Sixteen people suspected of plotting to kill police have been arrested in Indonesia, officials say.
The suspects were seized over the past four days at locations around Indonesia including the capital Jakarta.
Police confiscated cyanide and "pen guns" - guns fashioned to look like pens - in a raid in Jakarta, police spokesman Col Boy Rafli Amar said.
Correspondents say police, who are leading a security crackdown, are increasingly being targeted.
Of the latest arrests, seven were made in Jakarta, two in Pekalongan, two in East Kalimantan, two in Central Sulawesi and one in Bandung, Col Amar said.
Some of those arrests were based on information obtained from confessions of people captured after two police were killed in Central Sulawesi last month.
Col Amar was quoted by the Jakarta Globe as saying the suspects were involved in several different terror plots - with those arrested in Jakarta accused of planning to poison police with cyanide.
In a live television interview, Col Amar added that police also confiscated "pen guns" along with cyanide in the Jakarta raid.
The pens were being examined to determine whether they had been made by the suspects or supplied by other parties, he added.
In April, a suicide bomber killed himself and wounded 30 people up at a prayer room in a police compound in West Java.
Police blame that bombing on a new militant cell, reports the Jakarta Globe, and officers have reportedly arrested dozens of alleged members.