China Communist party 'exceeds 80 million members'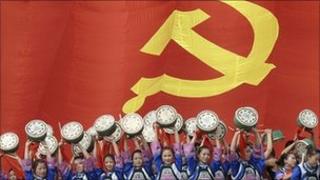 China's governing Communist Party, the world's largest political party, says its membership now exceeds 80 million.
Some 21 million people applied to join in 2010 but only about 14% were accepted, a party official said.
Applicants need the backing of existing members and must undergo exhaustive checks. Membership brings many perks including better career opportunities.
The announcement comes as China prepares to mark the 90th anniversary of the party's founding on 1 July.
Joining the party brings significant privileges, which explains why membership continues to rise.
Many jobs are only open to members, while their children get better schooling.
Most significantly in China, where correspondents say personal relationships often matter more than ability, members get to network with decision-makers influencing their careers, lives or businesses.
An official said that membership stood at 80.27 million at the end of 2010 - that is just 6% of the people in China, but it is almost equivalent to Germany's entire population.
The percentage of full party members in 2010 who were under 35 was 24%, while women made up about 22%.
In recent years the CCP has tried to broaden its membership from its traditional make-up of government officials, army officers, blue-collar workers and farmers.