Burma: Blasts strike three towns and cities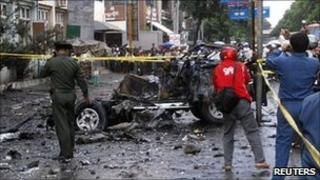 Several near-simultaneous blasts have hit three towns and cities in Burma.
The explosions, thought to have been caused by bombs, struck the capital Naypyitaw, Mandalay and the garrison town of Pyin Oo Lwin.
At least three people are reported to have been hurt but there are no reports of deaths. It was not immediately clear who was behind the attacks.
Burma's military-backed government has blamed similar attacks on ethnic armed groups fighting for more autonomy.
The first blast destroyed a car and shattered windows near the main market in Burma's second-biggest city, Mandalay late in the morning, according to reports citing government officials.
Local residents told the BBC that three people were wounded.
Another explosion followed soon after in a disused building in the capital, Naypyitaw, close to the main market. There were no reports of casualties.
A third blast hit Pyin Oo Lwin in central Burma, where there is a military training academy.
The blasts come amid an armed conflict near the border with China between government troops and the Kachin Independence Army, Burma's second largest ethnic armed group.
The government blamed a bomb attack in Naypyitaw earlier this month on ethnic Karen rebels.