Taiwan greets first independent tourists from China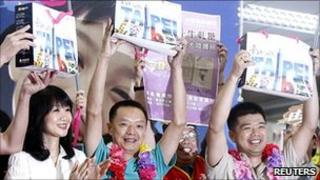 Some 300 independent tourists have arrived in Taiwan from China - the first time in decades mainland tourists have been allowed to roam on their own.
Tightly controlled tour groups have been permitted in recent years, but mainlanders are now allowed to visit independently.
Taiwanese officials say they expect a major boost in revenue from tourism.
The move is another sign of warming relations since the election of Taiwan President Ma Ying-jeou in 2008.
In many countries, it is normal for tourists to be able to travel around on their own. But decades of tensions between Taiwan and mainland China have only recently subsided.
China sees Taiwan as part of its territory and has threatened to use force if the island ever moved to declare formal independence.
Spying worries
The tourists were showered with media attention and handed gifts including Taiwanese pineapple cakes and bubble milk tea when they arrived.
Previously, the island had feared the tourists would overstay their visas, work illegally or spy on Taiwan. But such fears have given way to hopes of an economic boon from independent Chinese tourists.
Officials estimate the island could earn $300-600m (£188-375m) a year from the independent travellers.
But Beijing and Taipei are not embarking on this major move without caution. For now, only 500 such travellers are allowed to enter Taiwan each day and only those from the Chinese cities of Beijing, Shanghai and Xiamen.
Although Taiwan is concerned Chinese spies will now have easier access, the restrictions seem to be coming mostly from the Chinese side.
The tourists must first get permission from China's police before they can visit Taiwan.
That is because unlike the 4,000 Chinese tourists who come here on group tours each day, independent Chinese travellers can do practically anything they want once they get here - including linking up with Taiwan-based Chinese dissidents, Tibetan activists and members of the Falungong spiritual group, which is banned in China.
But many of the tourists who arrived on Tuesday said they simply wanted to see the island at their own pace, while others wanted to visit relatives.