Australia offers Sydney residents cash to move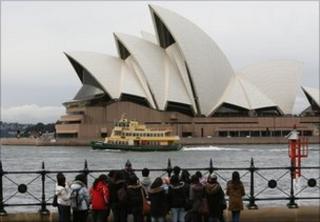 Sydney residents have been offered money to leave the city and resettle in rural New South Wales.
It is hoped the plan will boost rural areas recovering from a decade-long drought, as well as easing crowding in Australia's most populous city.
Australia is one of the world's most thinly populated countries, but almost a quarter of people live in Sydney.
The A$7,000 (£4,700; $7,500) grants are to help people buy homes in the country.
Renowned for its beach lifestyle and overall liveability, Sydney is the kind of place which many people find hard to leave.
'The Big Dry'
That is partly the reason why the New South Wales government is offering financial incentives to encourage families to go and live in the countryside, or the bush as it is known here.
With 4.5 million residents, Sydney is predicted to grow by 40% by the middle of the century.
Housing stocks are low, property prices are high and the infrastructure is already buckling under the pressure.
It is hoped that these relocation grants will persuade people to ditch the beach for the bush.
As well as helping to manage to Sydney's population growth, the scheme is also intended to boost the economy of rural communities, many of which have suffered as a result of a once in a century drought known here as the Big Dry.
This is a country that often mythologises the frontier spirit of life in the bush, through song, poetry and art.
But Australia is one of the most urbanised nations in the world and most people prefer to live in its cities.